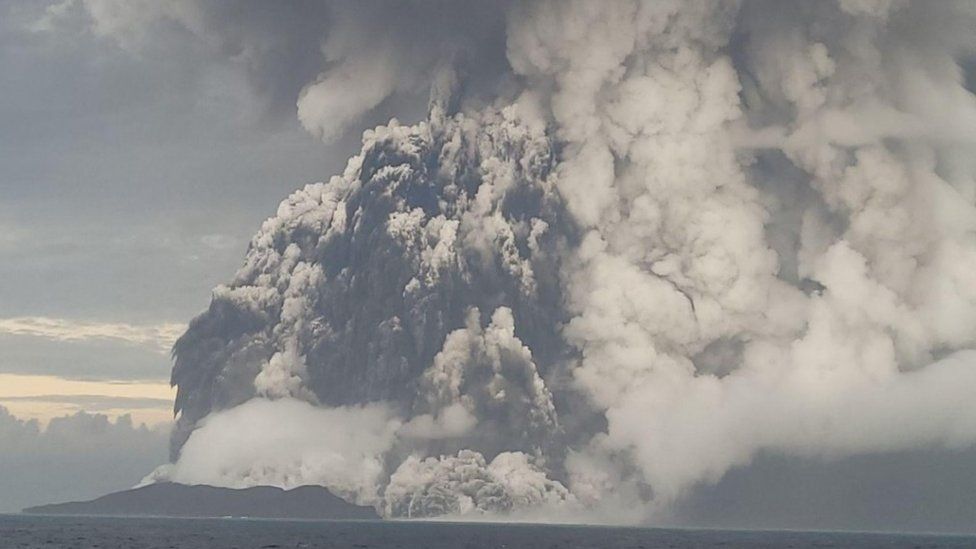 Experts are trying to assess the impact of volcanic ash and toxic sulphuric gases in the air after a volcano erupted in Tonga on Saturday.
The eruption showered the Pacific islands with ash and triggered a tsunami.
People have been advised to stay away from low-lying areas and beaches.
Now, the priority is to find safe shelter and clean water, and to escape the volcanic smog.
The plumes of gas and debris from the volcano reached 20km (12 miles) into the sky – but the main health concerns are from ash in the air which people are breathing.
A New Zealand government minister said there were "high levels of sulphur in the air at the moment and also in the water". They added that this was a risk to drinking water and fishing, which is vital to the Tongan people, and could lead to a rise in water temperatures.
The Red Cross says polluted drinking water, caused by volcanic ash and salt water from the tsunami, could affect tens of thousands of people and increase the risk of diseases such as cholera and diarrhoea.
Ash, gases and particles emitted from volcanoes can be a public health risk. They cause problems with breathing and can affect the heart and blood vessels – the cardiovascular system – too.
They can also irritate the lungs, eyes and skin.
Carol Stewart, associate professor of the College of Health, Massey University, said: "Ashfall on the ground is not hazardous to breathing, but fine ash in the air can be inhaled.
"Very fine particles can travel deep into the lungs where, in the short-term, they can cause asthma symptoms to flare up. Slightly larger particles irritate the nose and throat, and cause coughs and sore throats."
Fresh ash particles typically have an acidic surface coating, and if they get in the eyes they can sting and cause scratching damage, and can irritate skin.
["source=bbc"]