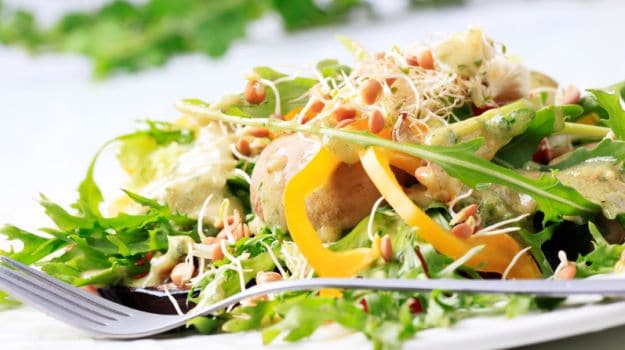 Food has been known to have healing properties since times immemorial. A common saying elucidates this, by saying, 'Food is medicine'. Indian kitchens especially are a storehouse of ingredients that can be used to treat common ailments and health issues. Certain foods in our diet can provide instant relief from fever, headache, constipation and even menstrual cramps. It is always a good practice to consult a qualified expert or a nutritionist before making any major changes to your diet. The right kind of diet, during menstruation specifically, can be immensely helpful in treating the Pre-Menstrual Syndrome (PMS) symptoms including cramps, moodiness and bloating. Celebrity Nutritionist Pooja Makhija has recently shared a recipe for a special PMS Relief Salad on her handle, and it has a special ingredient you may not know about.
The special ingredient that celebrity nutritionist Pooja Makhija recommended for menstrual relief was Alfalfa sprouts. The sprouts are made from the Alfalfa plant, considered to be a part of a legume family. Makhija revealed that the seeds or dry leaves may be taken as a supplement or can be sprouted and eaten. "Low in calories, high in protein alfalfa has a high content of bioactive plant compounds," explained the nutritionist in the caption.
Alfalfa sprouts may help relieve menstrual cramps due to the presence of these very plant compounds, including saponins, coumarins, flavonoids, phytosterols, phytoestrogens, and alkaloids.
["source=ndtv"]