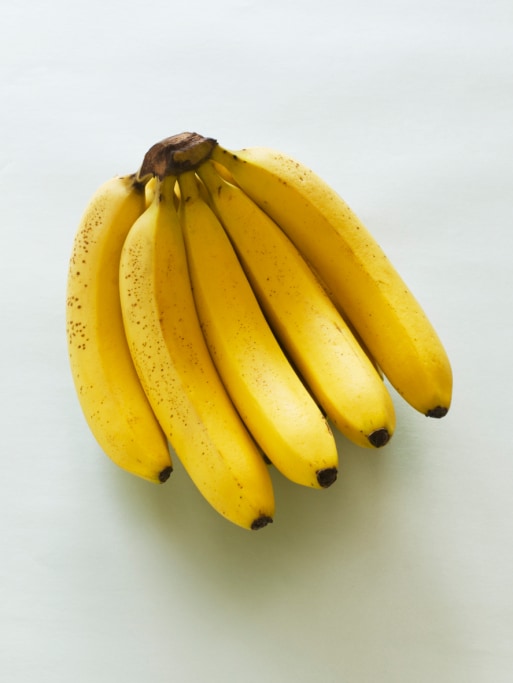 Hindi Name: Kela
Delightfully sweet with firm and creamy flesh, bananas come pre-packaged in their own yellow jackets and are available for harvest all through the year. The fruit ripens from deep-green to bright yellow, making it consumable. The commonly cultivated fruit is seedless.
Types
Bananas bloom in hundreds of edible varieties but largely fall under two distinct species.
The sweet banana – the fruit that is usually sweet. It varies in size and color.
The plaintain banana – this type of banana is usually regarded as a vegetable and is cooked.
Though we have been used to see bananas in bright yellow color, there are certain regions in the world where red, pink, purple, and black tones ripe.
One should buy banana keeping in mind ripeness of the fruit. If the outer layer is too green, then you can wrap them in a paper bag.
Unripe fruits shouldn't be refrigerated as it slows down the process.
Fully ripe bananas can be stored in a refrigerator for later consumption, not tampering the nutrient content.
Nutritional Value
1. Commonly regarded as child's food, banana is a favorite from infants to the elderly.
2. Being a rich source of potassium, banana helps in maintaining normal blood pressure and heart function.
3. Having a banana everyday may also prevent high blood pressure.
4. Apart from the cardiovascular benefits, bananas also promote bone growth.
5. Due to their antacid effects, bananas are also considered as a soothing relief against stomach ulcers.
6. Regular consumption of banana can also reduce the risk of kidney cancer.
Did you know?
Fiber taken from banana can be used to make clothes.
The most expensive bananas are found in Australia.
Bananas are radioactive.
["source-ndtv"]