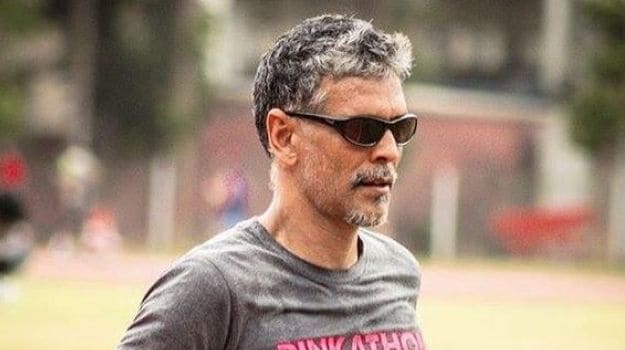 Image via Milindrunning/instagram
An inexplicable enigma shrouds his personality. From far he looks poised, reserved and extremely private; up close he sheds all pretence, opens up like a book and jokes around. At 50, Milind Soman seems to have perfected what most people find elusive – an indomitable drive to remain fit. One of the first male supermodels of the country, Soman has featured in some of the most memorable music videos of our age, acted in films and TV series, and walked ramps in India and abroad. The actor, supermodel and director has also been flocking attention in the recent times owing to his remarkable fitness feat. We recently interviewed the 'Ironman' to learn about his journey and what motivates him to stay at the top of his game.
Having just attended the launch of #FitIndia campaign – which Milind Soman and SmartCooky both are supporting – we headed to the 24/7 restaurant in The Lalit, Delhi, for our chat. My heart pounded in excitement as I worked up the opening line in my head while Mr. Soman called for the menu. I was curious to learn about his dietary choices and expected him to be disappointed with the available options. The waiter arrived with a menu and placed it next to him. He slid it a little to my side to help me see the content as well. I sat patiently, watching him run his finger past the soup section and then the salads. He finally stopped at a page, turned to me and said, "Do you eat pizza?" I was flabbergasted!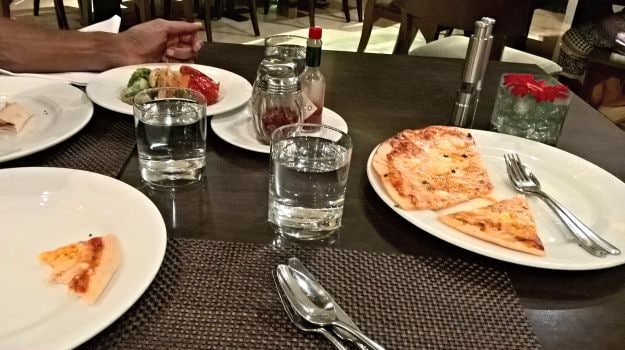 "I would like to have a Quattro Formaggi, please. Oh, and can you also get me a bowl of vegetables separately? Thanks," he directed the waiter while my eyes rolled in disbelief. "Are you sure you don't want anything to drink?" I was tempted to order wine when he added, "I am good with water," and I skipped wine as he mentioned that he has beer probably once in a year!
Dressed in complete monochrome – deep blue – Milind sat in front of me looking sharp yet polite. I began with his early years, talking about his swimming days and his discovery as a model.
"I was a swimmer and represented Maharashtra until I was 23-years old. Then I was spotted as a model and I began focusing on my career. I was always active and never really went to a gym. I've barely ever sat much or been idle," Soman shared as he went for a slice of pizza. After he was done with a couple of slices and half of the veggies, he asked, "I can see you don't like pizza much or is it because you're dieting?" I agreed with the former and added that I was pretty full from before. "I will eat a little as I don't want to waste the pizza," I said. "Really?" he raised an eyebrow and looked amused, "I can finish the entire thing in a go," and he went for it.I watched him devour the pizza while he spoke about his fitness journey and how he manages to remain so fit. "There is no trick. You need to feed your body the right thing. You have to make fitness a part of your lifestyle. It needs patience, determination and consistency. Eating right is the first step, and once that falls in place you need to back it up by exercising," he muttered.
"For me, giving up chocolates and smoking was quite a challenge. I had chocolates stacked in my fridge more than any other item. Now, I don't even feel like having it. Anything processed or refined is bad for you, therefore I am off sugar as well. However, Starbuck's Red Velvet Cake remains my favourite and I have it once a while. Once you limit your sugar intake, you actually start appreciating the natural sweetness of fruits. Sugar gives you nothing, but saps your energy and ruins your ability to taste," explained Soman.How Did it All Start?
So, how did running happen? And the triathlon? "I always wanted to run a full marathon. In 2003, I took to treadmill running, and realised that it wasn't appealing. I started running outdoors and really enjoyed it. I decided to run the Mumbai half marathon in 2004, I managed to finish it in a couple of hours, it motivated me further. Running soon became my hobby, my passion and my habit, and there has been no looking back." he shared.
Unpredictability manifests in Soman, as if it is his way of life. As we talked about his glorious attempt at the Zurich Ironman triathlon last year, he lifted up his leg, took off his sandal and showed me a hole in it, "See this hole here? This is the sandal I wore during the Ironman, I wanted to run bare feet but they didn't allow it. I just don't like running in shoes, it's suffocating," he exclaimed.
Soman claims to have trained for the Ironman in under 80 days. "I had picked up running but had not swum for 25 years and had never cycled before; however, my stamina was good. I appeared for simulated challenges and managed pretty well. I was turning 50, and I though what else could be a better way to celebrate my birthday than giving Ironman a shot?" he laughed.The Pinkathon ambassador follows a strict diet with no slip-ups (besides occasional indulgences like the Quattro Formaggi). "I weigh the same as I did when I was 18. I am an early morning person and eat fruits for breakfast – bananas, papaya, melon and other seasonal fruits. Fruits should always be eaten before sunset, and you should never mix them with other foods as it tends to hinder digestion," he shared while finishing the last slice. He noticed me staring at him and chuckled, "What? I love pizza!"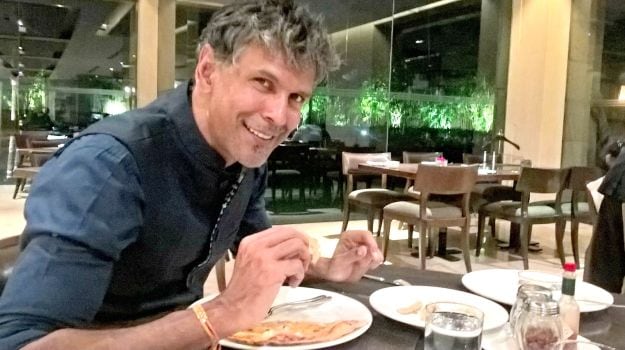 Milind Soman's Diet
As the waiter cleared the table, I moved on to my last question, "What about your daily diet?" He replied, "I eat regular food. I love ragda pattice and Indian meals, especially mom-made khichdi which is ideally 1/3 rice and rest all veggies. You should always eat foods with skin or peels on. I prefer sweet potatoes, tapioca or yams over potatoes and always go for unpolished grains and millets like bajra and ragi. Dairy is excellent too like curd, buttermilk and goat's cheese."
Soman is largely a vegetarian, "I eat non-vegetarian food once a while. I think vegetarian source of protein is better assimilated in the body, and is a cleaner fuel. Non-vegetarian source of protein is just more convenient for most people," he took a sip of water and looked absolutely delighted with the pizza which he had just finished.
Born in Scotland and raised in India, Milind Soman is a supermodel who holds a diploma in electrical engineering and has gone on to acquire spectacular achievements in the world of fitness. For him running is a way of self-exploration. The actor consciously distances himself from technological devices and claims that the juicer is his most prized gadget. "I love my juicer, I have close to five big glasses of juice in a day. I don't believe in fitness trackers or other fancy devices. I listen to my body and trust my instincts. Also, did I mention patience earlier? Yes, patience is the key, I have lots of patience, trust me," he broke into a wide grin.As we got up to leave, Soman was surrounded by people whom he cordially attended to, clicking selfies and signing autographs. As the chaos subsided, he turned back and said, "Didn't I say I have lots of patience? Patience is the key," he smiled and walked on.
["source-ndtv"]