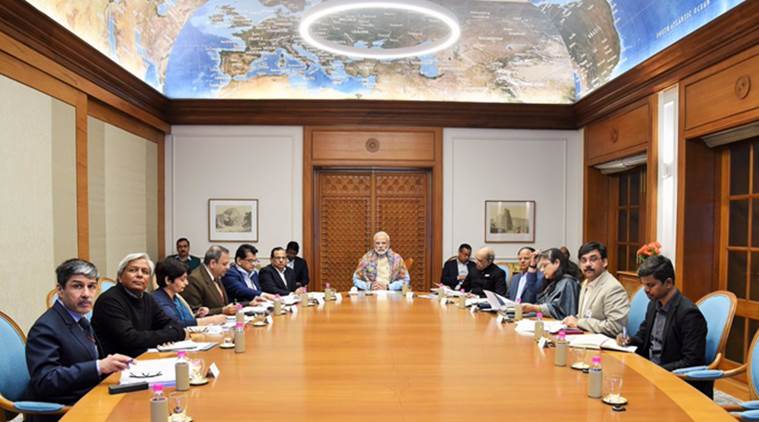 Prime Minister Narendra Modi chaired a high-level review meeting with NITI Aayog officials and other senior officials from the Prime Minister's Office (PMO) in New Delhi on malnutrition and related problems. In the meeting, the PM laid emphasis on the need to work towards concrete objectives to reduce stunted growth in children, under-nutrition, low birth weight and anaemia. Among the things discussed were health improvement initiatives in other developing countries.
PM Modi reviewed the progress made to prevent under-nutrition in the country and set a deadline of 2022 for the results to be seen. The years 2022 marks the 75th anniversary of the country's Independence.
Towards this end, real-time monitoring towards progress of nutrition outcomes was discussed, especially in the worst performing districts, a statement released in New Delhi said.
Senior officials informed the PM that initiatives such as the Swachh Bharat Abhiyan, Mission Indradhanush, Beti Bachao – Beti Padhao, and the Pradhan Mantri Matru Vandana Yojana, were having a positive impact on nutrition.
The Prime Minister called for convergence among all schemes of the Union and state governments, which directly or indirectly have an impact on nutrition outcomes.
He said raising social awareness towards the importance of nutrition is necessary, to achieve the desired results. He stressed on the importance of using informal channels to generate this awareness.
In the Global Nutrition Report of 2017, which compared nutrition data based on public health in 140 countries, India had fared badly. The report was published in early November.
According to the report, childhood stunting, anaemia in women of reproductive age, and overweight adult women were found to be major problems in the country. Nearly 38 per cent of children under five years of age had stunted growth patterns, resulting in irreversible damage to brain capacity. Close to 21 per cent of children under five years of age were found to be underweight. Over half of women of reproductive age – 51 per cent -suffer from anaemia, the report had said.
source:-the indian express