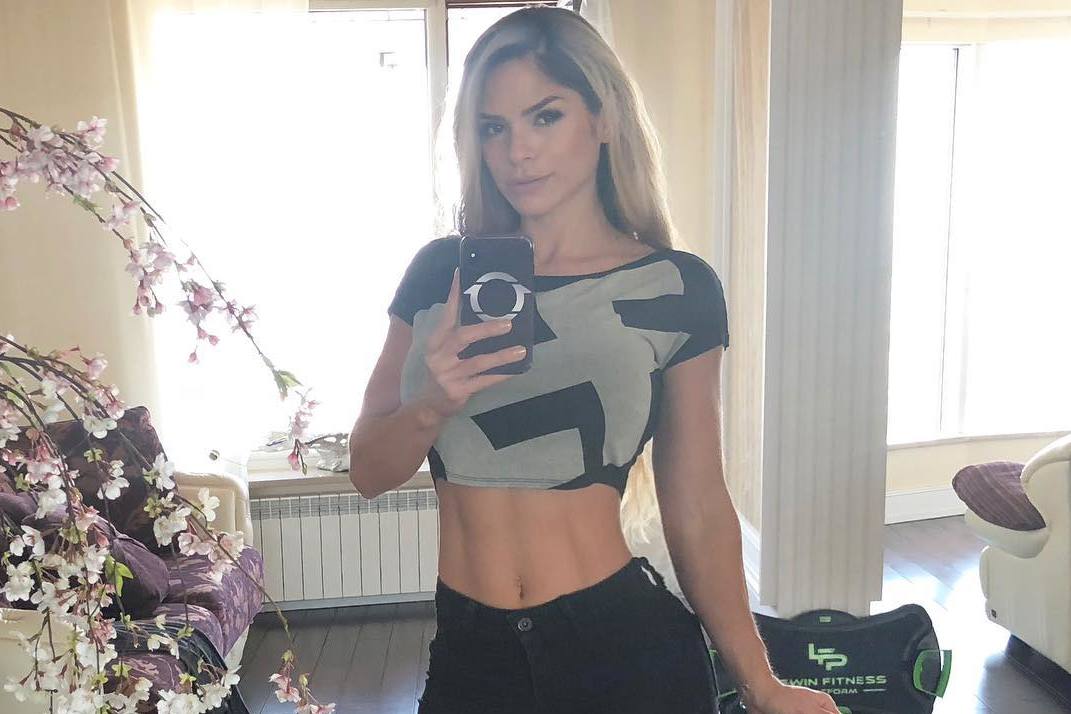 A fitness influencer with 13 million followers has been criticised for promoting "extremely dangerous" weight loss pills that claim to "allow you to cheat on your diet."
Michelle Lewin, a fitness model and bodybuilder based in South Florida, posted a picture on her Instagram story of her holding Base Carb Crush pills "To endulge like crazy… And don't give a f*** [sic]."
The post linked to an Amazon page selling the "cheat meal solution" pills, which are marketed as "carb blockers" and "appetite suppressants" that "allow you to cheat on your diet."
"Indulge on the carbs you love while minimising weight gain, allowing you to not feel guilty and enjoy life," the tagline states, recommending the consumption of three pills before a "cheat meal."
Although the full ingredients are not listed, the pills reportedly contain "chromium, grape seed extract and Maqui berry extract."
The pills are manufactured by Base Nutrition, which Lewin's website states is one of her products.
Kim Kardashian under fire for writing post on maximising fat loss
However she has been widely criticised for promoting an unhealthy attitude to food – and carbs in particular.
Personal trainer and co-host of The Three Dumbbells podcast Freddie Ray posted on his own story calling on Lewin to "sort it out," "stop being an idiot," and "rethink your actions."
"Why are you promoting such cr*p?" he asked, whilst also highlighting the price of the pills.
"We live in a world whereby nearly everything we do can be done at the touch of a button," Ray tells The Independent. "Ordering a cab, booking a holiday, getting food delivered to your door… the list goes on.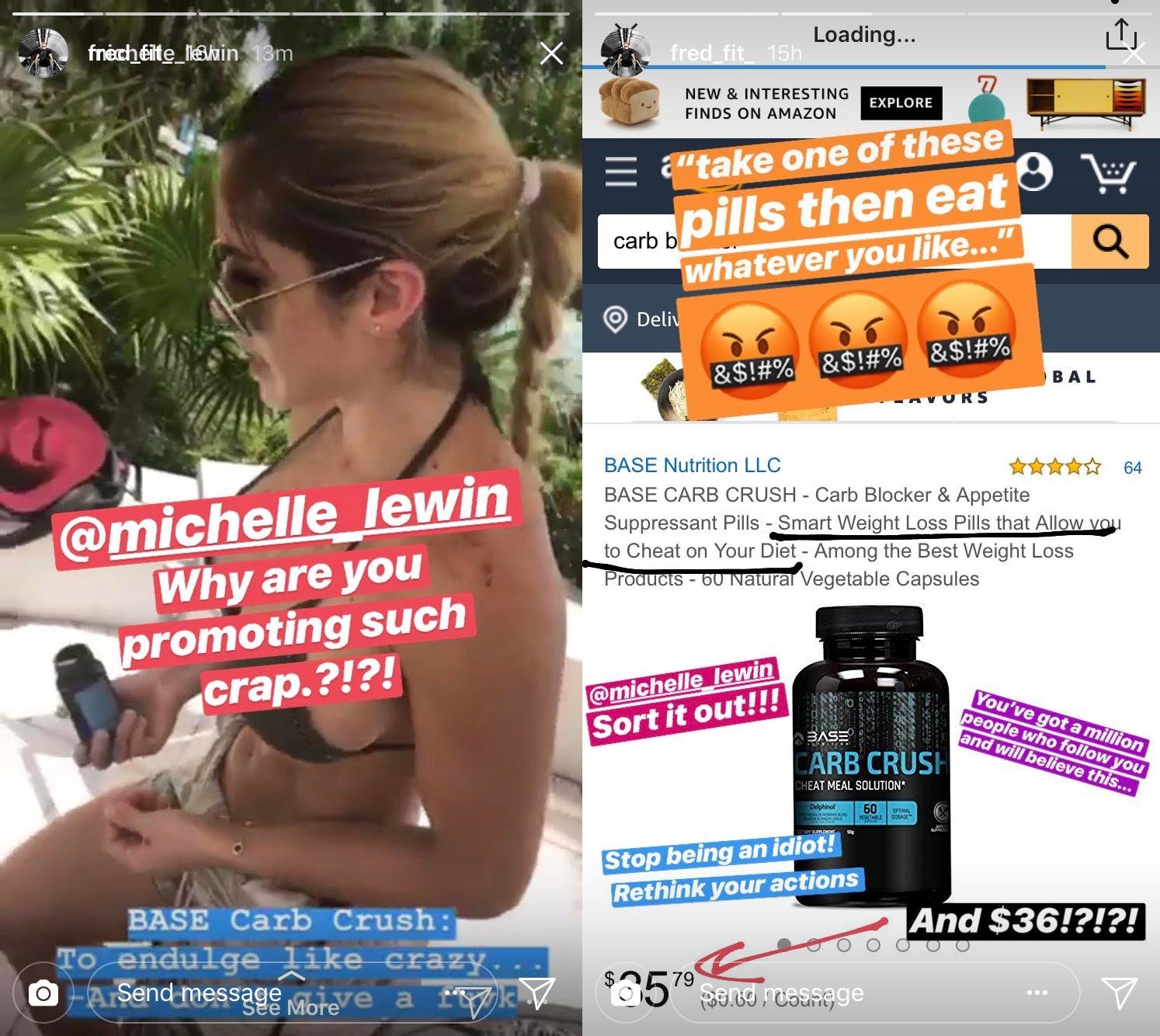 "However, our bodies DO NOT work like this. We cannot just change physically and mentally overnight. It requires consistency, healthy habits, determination and accepting that at times it will be a bumpy ride.
"By taking 'appetite suppressing' (carb crush) pills that imply you can eat whatever you like and the food won't be processed and ingested as it normally would, or as Michelle Lewin quotes 'to indulge like crazy and don't give a f***', we are immediately reaching out for the easy 'quick fix' option without addressing the underlying issues.
Nearly 80% of weight-loss shakes make claims that are 'untrue'
"People are being brainwashed by someone with millions of followers who's in great shape, having trained hard for many years, eaten well and having been incredibly disciplined in what she does day to day, not from having taken 'carb crush' pills. What sort of message is this giving people?!"
Leading Harley Street nutritionist Rhiannon Lambert has also condemned the diet trend of carb crush pills: "Carbs are not meant to be 'crushed'," she tells The Independent. "Taking any kind of diet pill can actually be extremely dangerous as our bodies are not meant to use pills as part of a well balanced diet.
"'Carb pills' are scientifically flawed and you have to be so careful particularly when ordering pills online. It is important to see a registered health professional before supplementing of any kind."
Lambert also believes it can be particularly damaging when someone with such a huge following promotes such behaviour.
"It is so upsetting to see celebrities that are followed by so many, promoting such damaging habits that may result in serious side effects," the Re-nourish author continues. "This also encourages a very unhealthy relationship with food.
"There is absolutely nothing that a pill can do for your body that a well balanced diet won't do better. Eating a variety of complex carbs, protein, essential fats and fruits and vegetables will help your body to thrive."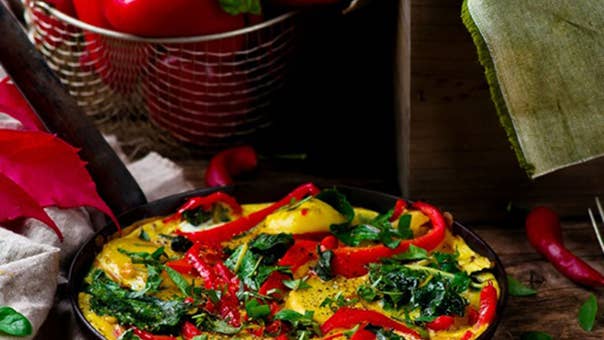 What's more, there is no scientific evidence that products such as these "carb crush" pills actually work.
"The problem with carb blockers is that they have no evidence base to back them up i.e. there is zero proof that they work!" registered dietitian Nichola Ludlam-Raine tells The Independent.
Low-carb and low-fat diets have same effect on weight, claims study
She explains that there are some pills available on prescription that can help with weight loss but only when taken in conjunction with a healthy lifestyle, but many have dangerous side effects and very few have an positive long-term effect.
"It's strange that these carb-blocker pills promote that they slow down the release of carbohydrate into the bloodstream 'with a cheat meal' as any amount of fat, fibre and protein eaten with said carbohydrate will have the same effect!" Ludlam-Raine continues.
"I also hate the term 'cheat meals' as all foods and meals can feature (guilt free!!) as a part of a healthy and balanced diet; I prefer that higher calorie meals are simply termed an occasional 'treat'.
"These pills in my opinion could re-enforce disordered eating which can be very damaging psychologically."
["Source-independent"]