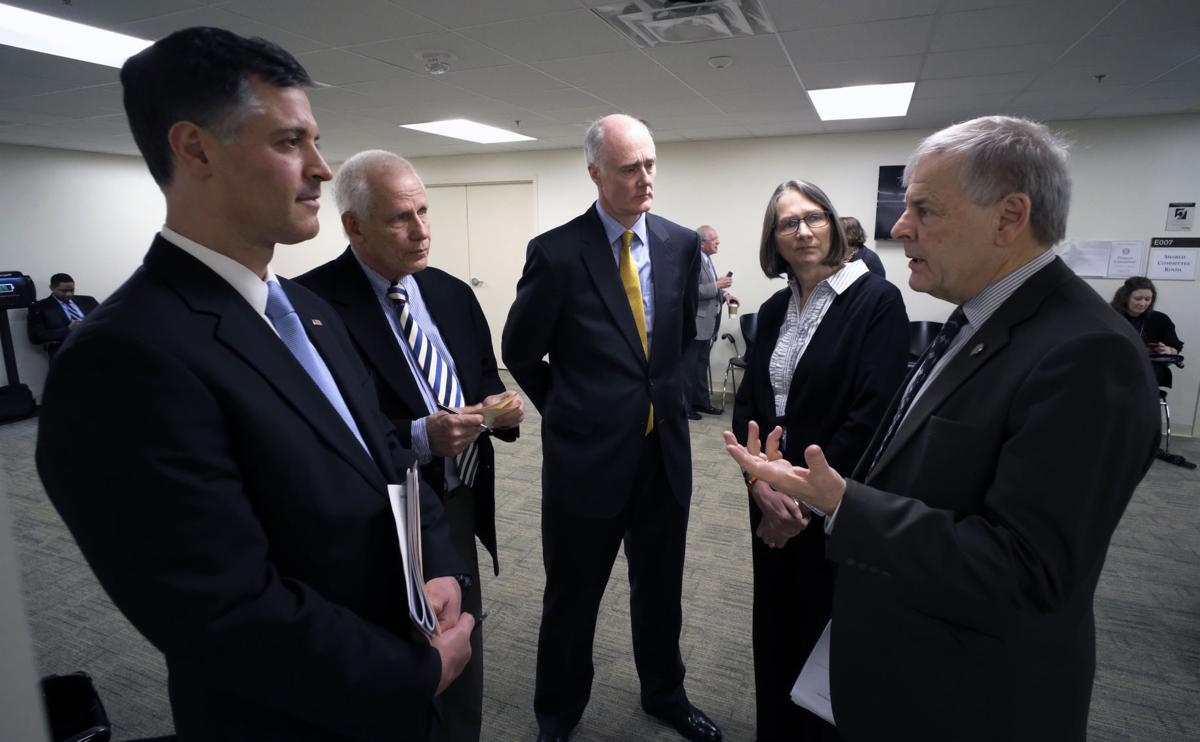 House Minority Leader David J. Toscano (right), D-Charlottesville, talks with Robert Tracci (from left), Albemarle County commonwealth's attorney; Albemarle Sheriff J.E. "Chip" Harding; and John and Sue Graham, parents of slain University of Virginia student Hannah Graham, in Richmond on Monday.
Proposed legislation that sprang from the murders of two college women in Charlottesville and would expand the misdemeanor crimes for which DNA is collected and stored moved forward in the state Senate on Monday.
The bill would expand the state's DNA database to include anyone convicted of assault and battery, assault and battery against a family or household member, petit larceny, shoplifting, trespass, destruction of property and obstruction of justice.
Members of the Senate Committee for Courts of Justice voted 13-2 to send the bill to the full Senate, where it will next be sent to the Senate Finance Committee.
Sponsored by Sen. Mark D. Obenshain, R-Harrisonburg, the bill is a copy of House Bill 1264 filed by Del. David J. Toscano, D-Charlottesville.
Obenshain told the committee that the 2014 abduction and murder of University of Virginia student Hannah Graham by Jesse Leroy Matthew Jr. could have been prevented had the law been in place.
"The bill emerged from the tragic events involving the murder of college girls in Charlottesville," Obenshain said. "The murderer was someone who would have been caught before he committed [Graham's] murder had we been collecting this DNA."
Matthew was convicted in 2014 of a 2005 rape of a Fairfax woman who had Matthew's DNA under her fingertips.
In 2009, Matthew abducted and killed Morgan Harrington, a Virginia Tech student who was attending a concert at the John Paul Jones Arena at UVa. Investigators found DNA in the Harrington case that matched the Fairfax rape case.
Had Matthew's 2010 conviction for criminal trespass resulted in collection of his DNA, he likely would have been convicted of the Fairfax rape and Harrington's murder and been in jail, Obenshain said.
Graham's mother, Susan Graham, agreed.
"Hannah would never have had the misfortune of encountering him in Charlottesville," she told the committee Monday. "He would not have abducted her and murdered her. She would be alive today."
The bill also is supported by Albemarle County Sheriff J.E. "Chip" Harding, who was influential in getting the state's DNA database started. While a captain with the Charlottesville Police Department, he was involved in the effort to collect DNA that led to the capture and conviction of Charlottesville serial rapist Nathan Antonio Washington in 2007.
"People tell me that this bill includes a lot of minor offenses, but they all carry a possible year in jail," Harding said after the committee hearing. "Go and spend a year and jail and tell me that it's minor."
Harding said the law is based on laws passed in New York that have successfully led to prosecutions of more serious crimes.
"The New York studies show that a majority of felons had committed these misdemeanors," Harding said. "If we collect the DNA, we can stop someone before they become a serial criminal."
Not everyone favored the bill. Claire Guthrie Gastañaga, of the ACLU of Virginia, said it is a serious intrusion into the privacy of individuals because, unlike fingerprints, DNA can be used to determine more than just identity.
She said other studies show that the majority of people who commit misdemeanors do not go on to commit felonies and that because the state arrests and prosecutes more minorities, the DNA database would necessarily be skewed toward minorities.
John Graham, Hannah Graham's father, told the committee he didn't think the privacy concerns outweighed public safety.
"I think the concerns of the privacy of people so far away from social norms that they have been convicted of serious misdemeanors or felonies is something that I am far less concerned about," he said.
["Source-dailyprogress"]