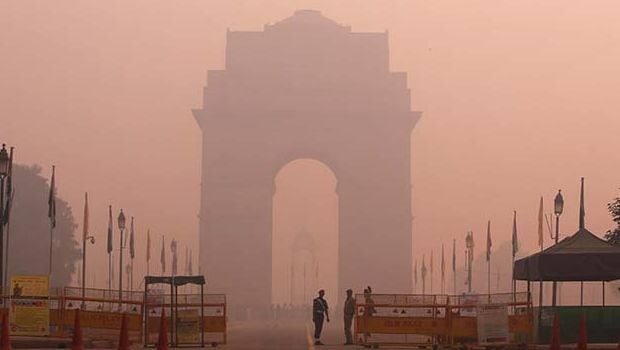 Schools in the Indian capital will be closed for the next three days, the Delhi state government said Sunday, as the city struggles with one of the worst spells of air pollution in recent years.
"Emergency measures are needed to solve this problem together," state chief minister Arvind Kejriwal said.
"All construction and demolition in the city will be banned for next five days. All schools will be closed for the next three days in Delhi," he added.
Thick smog has blanketed the capital for days, with local and central authorities meeting to resolve the crisis.
Kejriwal, who chaired an emergency meeting of the state cabinet, advised people to stay indoors as much as possible and work from home if they could.
Other measures announced by the government include fighting fires at landfill sites, sprinkling water on main roads to suppress dust and shutting down a power plant.
The chief minister, who on Saturday compared the state to a "gas chamber," has blamed crop-burning by farmers in neighbouring states for the smog.
Most of Delhi's neighbouring states are largely dependent on agriculture, with farmers resorting to crop-stubble burning before each sowing season, which worsens air pollution over Delhi and its satellite towns.
"One can't expect relief (from pollution) over the next few days as more crop burning will happen in the next few days," Kejriwal said Sunday.
India's environment minister Anil Madhav Dave, who met with the state leadership on Saturday, is expected to discuss a solution to the crop burning issue with leaders of neighbouring states this week.
Around 250-300 people, including many parents with their children, gathered around Jantar Mantar, New Delhi's major site for protests, on Sunday morning.
Most of the Delhi locals came wearing pollution masks and held placards urging the people and the government to do more to tackle pollution in the city.
Other placards urged farmers to stop the crop-burning.
New Delhi's air quality has steadily worsened over the years, a result of rapid urbanisation that brings pollution from diesel engines, coal-fired power plants and industrial emissions.
It also suffers from atmospheric dust and pollution from open fires lit by the urban poor to keep warm in winter or to cook food.
The chief minister warned restrictions that took around a million cars off the roads for 15 days in a bid to improve air quality earlier this year could again be implemented.
The 'odd-even' plan restricts cars to alternate days according to their number plates.
However, the restrictions have been criticised since the capital's creaking public transport infrastructure struggles to take the pressure off private vehicles.
The reading for pollutants in the atmosphere recently breached the 1,000 microgram mark for the first time in one neighbourhood in south Delhi — 10 times the World Health Organisation's recommended level.
["source-ndtv"]