Technology entered the fitness and wellness industry through the popularity of electronic workout equipment; wearables, such as heart rate monitors and GPS watches; and apps that help track everything from calories and steps to meal plans and running routes.
The introduction of AI in fitness is enhancing the existing technology and providing new applications for health.
AI-powered personal coaching
Personal training — an integral part of the fitness industry for decades — has traditionally been a very hands-on, human-to-human experience. However, AI-focused startups are starting to corner the market and make personal training readily available and affordable.
Companies like Shft have released AI-powered digital coaching apps to study how individuals work out and to provide customized workouts and motivation tailored to fitness goals. These mobile healthcare apps allow for flexibility — users can fit in fitness when it's convenient and not work around a human trainer's schedule.
Planet Fitness has developed an AI-powered app that is connected to fitness equipment in their gyms to deliver more personalized fitness guidance to their customers through multiple channels. The app helps clients learn how to properly use various machines and equipment and provides tailored motivation and customized workouts. The customization enables customers to exercise at their own pace and not feel pressured or embarrassed to try out new equipment, while still ensuring proper form, safety and technique.
Additionally, Under Armour has partnered with IBM's Watson to create the UA Record App, which provides coaching and guidance for individuals' daily routines, including activity levels and fitness, nutrition, and sleep. Powered by cognitive technologies, the app can customize fitness programs for individual users, track food intake with computer vision technologies and recommend workouts based on local weather, visibility and goal trajectories.
AI-powered wearables
AI technology is making wearables smarter by analyzing activity levels and how the body responds to strenuous workouts. Tech brands and apparel companies are developing connected and intelligent wearables to help customers get a more holistic view of their health. For example, Fitbit has combined AI with personalized coaching to assist users on their fitness journeys and allow for remote patient monitoring from their healthcare providers.
Coupled with AI technologies, AI-powered wearable devices can recognize changes in key metrics that could indicate a problem with a user's health, such as diabetes or hypertension, allowing for earlier diagnosis and treatment. AI-powered technology can also help prevent injuries by suggesting adjustments to a user's running cadence or adjustments to form during weightlifting exercises.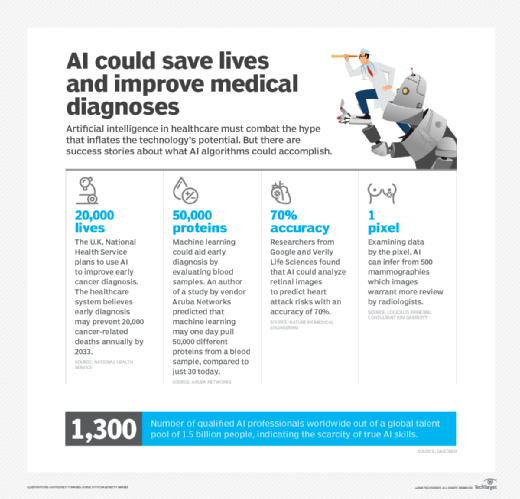 Personal trainers are tapping into AI-enabled wearables to monitor and track the progress of their clients from a distance. Smart wearables can provide insight into the health of trainers' clients, offer recommendations, track stress levels, recommend breaks, and offer personalized breathing practices and guided meditation. Personal trainers can commit to their clients off the clock by analyzing data during or after sessions.
AI helping with customer service
AI in fitness is being deployed to improve revenue and customer satisfaction. Gyms and wellness centers produce a significant amount of data that is often under-analyzed, especially in small boutique gyms. With AI technologies, management can more effectively analyze this data to get more comprehensive customer profiles, including gender, age and preferred workouts, to determine the factors that could contribute to the club's revenue.
AI-powered sales tools are enabling hyper-personalized communication to clients. Using customer profile data alongside machine learning models trained on an individual member's behavior, health centers can create custom automated notifications. With robust profile data, clubs can better understand individual needs with a more complete view of the customer to create specific offerings that will yield the highest ROI.
Virtual assistants
With the universal rise in virtual assistants and chatbot implementations, health and wellness centers are also taking advantage of this tool. Customer service chatbots answer a variety of questions to
Chatbots are able to operate 24/7, have a positive and encouraging tone, and can be a more approachable alternative for people who are just starting out on their fitness journey who may not feel comfortable asking questions. Virtual assistants are also able to offer specific instructions and movement suggestions to users to improve their form or change certain habits.
Additionally, people with health conditions can access new tools, support and therapy, such as a virtual assistant nurse. Virtual assistants offer 24-hour support and are able to treat patients who want care but may be too shy to talk to a person about their concerns. Treatment can range from general health- and wellness-related issues all the way to complex care and disease management.
The global fitness industry is a massive market, and it seems that health clubs, boutique fitness centers, and a variety of health and wellness apps and wearables are popping up regularly. Now, with a global rise in overweight and obesity rates, people are looking for tools and technologies to help them on their weight loss and wellness journeys.
Implementing AI in fitness tools is already proving useful, and as technologies like AI-powered digital coaches continue to gain adoption, the positive impact should only increase.
["source=searchenterpriseai.techtarget"]