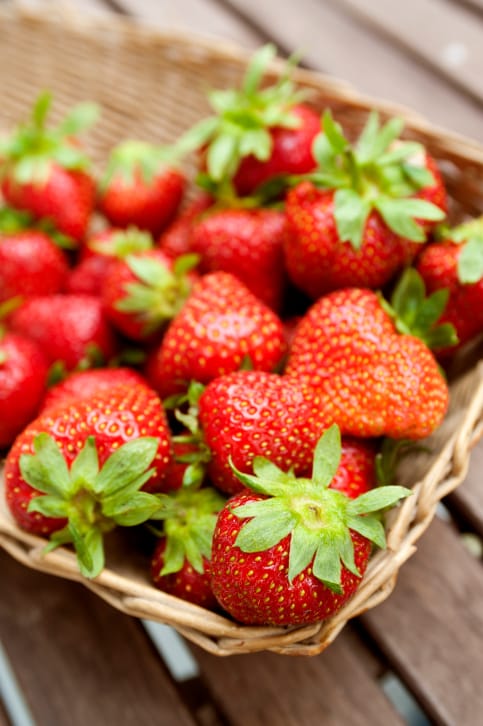 Widely appreciated for its distinctive aroma, fiery red color and juicy taste, strawberry is everybody's favorite fruit. They are red, juicy and have a conical shape. Strawberry's belong to the rose family and are essentially grown for the fruit. Strawberries come in various shapes, sizes and colors; some are even off-white or yellow in color. Though available all through the year, the best berries are available from April to June.
Types
Albion is a very popular fruit that has a dark red color and is the sweetest of all strawberry varieties. The plant is popular for the large fruit.
Allstar variety has a slightly pale red color, and grows big and firm. This variety is used as a condiment for salads.
Benton, a June-bearing cultivar has good keeping quality, and has a good flavor. The fruit varies from a medium to large size.
Cavendish produces high-quality berries that are more resistant to pests. The flavor is very sweet compared to other varieties.
Usage
Strawberries are consumed fresh or added as condiments in juices, salads, ice-creams and chocolates. They may either be frozen and used as preserves, or they can be dried and used in cereals and granola bars. They are a popular addition to various dairy products, such as yoghurts, milk-shakes, ice-creams and smoothies. Strawberries are most commonly used in various desserts; they combine very well with chocolates, chocolate sauce, whipped cream and are also used in various pies and puddings. Strawberry juice is a popular ingredient in various cocktails and mocktails.
Nutritional Value
1. Strawberry is an excellent source of Vitamin C and flavonoids.
2. Having strawberry regularly prevents cardiovascular diseases and improves regulation of blood sugar.
3. There are many essential antioxidant and anti-inflammatory nutrients in strawberry.
4. Strawberry also contains essential fiber that improves heart health. It also contains Potassium that helps balance electrolytes.
5. The acidic content in the fruit whitens the teeth.
6. Strawberries are a rich source of fiber, low on calories and high on Vitamin C.
How to Buy
Choose bright colored, plump and firm strawberries which still have their green cap. Avoid soft and shriveled berries.
How to Store
Wash the strawberries only once they are ready to be used. Either keep them frozen or refrigerate them in an airtight container for up to 2-3 days.
Did you know?
During the medieval times, strawberries were served at functions to bring peace and prosperity.
There are about 200 seeds in one strawberry!
There is a museum in Belgium hosting only strawberries.
["source-ndtv"]