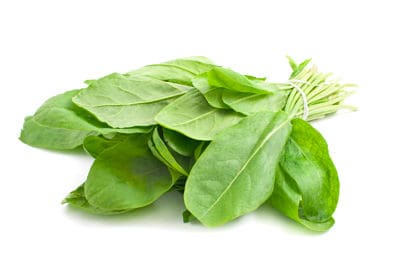 Sorrel is a leafy green vegetable that is native to Europe. It has a sharp, lemony taste. It is a perennial herb also known as garden sorrel or common sorrel. Their color spectrum ranges from pale to dark green. They are arrow-headed somewhat like spinach leaves. They tend to taste more acidic as they mature. The strong flavored variety is called sour dock while the mild ones are known as dock sorrel. In southern India, sorrel leaves are called chukkakura.
It gets its sour taste due to the presence of oxalic acid. In fact its name is derivative of a french word that means 'sour'. Oxalic acid can be toxic if consumed in large quantities. Sorrel leaves are available all year round.
Usage
Sorrel leaves are made into soups or sauces and can also be added to salads. In India, a type of pickle is made using sorrel leaves.
They are commonly used as salad leaves and are also used in cream of sorrel soup. Sorrel leaves combine well with spinach, pepper, potatoes, eggs, fish, mustard and olive oil.
Nutritional Value
1. It is an extremely rich source of vitamin A, B9, and C.
2. It is a good source of vital minerals such as potassium, magnesium, sodium, iron, and calcium.
3. Being rich in oxalic acid, sorrel may not be an ideal choice for everyone, especially those suffering from rheumatism, bladder, and kidney stones.
4. It contains powerful laxative properties and over consumption may result in diarrhea.
5. It is low in energy content but provides adequate dietary fibers.
6. Not only can you use sorrel as both a fresh and dried herb in cooking, you can also use it to prepare hot and cold teas.
7. Tea made from sorrel leaves can help reduce blood pressure.
8. The flavonoids found in the sorrel plant are good deterrents against particular types of cancers.
9. It is a rich source of calcium and is good for maintaining bone health in women and preventing problems like osteoporosis.
How to select
Chose bright green colored crisp leaves. Avoid all woody leaves or stems which are yellow in color or are wilted.
How to Store
These leaves can be stored for up to 3 days if wrapped in plastic and kept refrigerated.
Note: When taken in large amounts, sorrel might increase the risk of developing kidney stones. Sorrel contains oxalic acid and is considered unsafe for children.
["source-ndtv"]