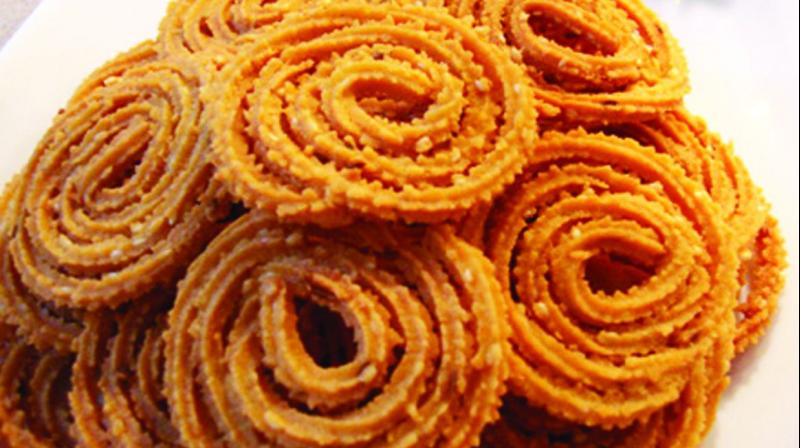 Hyderabad: Chakli is a popular snack and if it is made from sorghum (jowar) or from finger millet (ragi) it is nutritious as well, being rich in protein and minerals, according to a study published in the International Journal of Current Microbiology and Applied Sciences.
Chakli is a traditional Indian snack, but cereal-based chaklis are made by only a few; usually, gram and rice are used. Scientist S D Patekar says that "the physio-chemical and nutritional composition of sorghum variety maldani (M35-1) was found best among other genotypes with forty per cent incorporation with malted finger millet."
In a recipe that used a cereal and pulse mixture, the protein content ranged from 11.20 to 14.75 per cent. Fat content from 26,49 to 30.13 per cent and in the mineral composition, calcium content was 322.30, phosphorus was 144.05 and iron was 1.93 mg.  After storing for 30 days, it was found that the nutritional value of the chakli was intact.
"Sorghum is a major cereal crop in the country after rice and wheat. It is commonly called jowar or great millet. Its nutritional value shows that it's a healthy snack," says scientist D R More.
Making of  chakli 
Cereal + pulse mixture (Sorghum-finger millet flour, rice flour, Bengal, green, black gram), salt, cumin seeds, oil and asafoetida were mixed to develop a firm dough using warm water. The doug-h was allowed to rest for some time. Then it is filled in the chakli presser. Chaklis are shaped and fried in hot oil on slow flame. After frying, they are allowed to cool down and kept in air tight containers.
[Source"pcworld"]