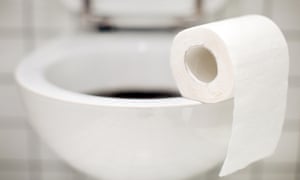 A man accused of burgling a southern California home took a bathroom break and left DNA evidence in the toilet that led to his arrest, an investigator has said.
The suspect "did his business and didn't flush it" during the October break-in in the city of Thousand Oaks, said Detective Tim Lohman of the Ventura county sheriff's office.
The indiscretion allowed investigators to collect evidence to conduct a DNA profile. It matched another profile in a national database and detectives tracked down the suspect at his home in the nearby city of Ventura.
Andrew David Jensen was arrested on 28 July on suspicion of first-degree residential burglary, a felony. His bail was set at $180,000. Lohman did not know if Jensen, 42, had an attorney.
Efforts to reach Jensen for comment on Tuesday were unsuccessful.
Lohman said it was the first DNA burglary match case he knew of involving evidence collected from a toilet.
"When people think of DNA evidence they usually think of hair samples or saliva," Lohman said.
[Source"timesofindia"]