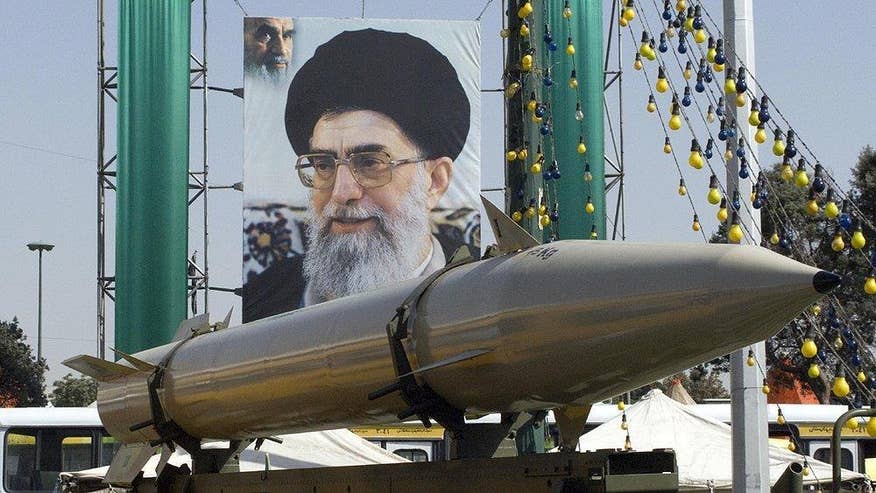 When Iran attempted to launch a cruise missile from a "midget" submarine earlier this week, Pentagon officials saw more evidence of North Korean influence in the Islamic Republic – with intelligence reports saying the submarine was based on a Pyongyang design, the same type that sank a South Korean warship in 2010.
According to U.S. defense officials, Iran was attempting to launch a Jask-2 cruise missile underwater for the first time, but the launch failed. Nonproliferation experts have long suspected North Korea and Iran are sharing expertise when it comes to their rogue missile programs.
"The very first missiles we saw in Iran were simply copies of North Korean missiles," said Jeffrey Lewis, a missile proliferation expert at the Middlebury Institute of International Studies at Monterey. "Over the years, we've seen photographs of North Korean and Iranian officials in each other's countries, and we've seen all kinds of common hardware."
When Iran tested a ballistic missile in late January, the Pentagon said it was based on a North Korean design. Last summer, Iran conducted another missile launch similar to a North Korean Musudan, the most advanced missile Pyongyang has successful tested to date.
Defense analysts say North Korea's Taepodong missile looks almost identical to Iran's Shahab.
"In the past, we would see things in North Korea and they would show up in Iran. In some recent years, we've seen some small things appear in Iran first and then show up in North Korea and so that raises the question of whether trade — which started off as North Korea to Iran — has started to reverse," Lewis added.
Iran's attempted cruise missile launch from the midget submarine in the Strait of Hormuz was believed to be one of the first times Iran has attempted such a feat. In 2015, North Korea successfully launched a missile from a submarine for the first time, and officials believe Tehran is not far behind.
Only two countries in the world deploy the Yono-class submarine – North Korea and Iran. Midget subs operate in shallow waters where they can hide. The North Korean midget sub that sank a 290-foot South Korean warship in 2010 — killing over 40 sailors — was ambushed in shallow water.
North Korea denied any involvement in the sinking.
"When those midget subs are operating underwater, they are running on battery power—making themselves very quiet and hard to detect," said a U.S. defense official who declined to be identified.
During testimony last week, Adm. Harry Harris, the head of American forces in the Pacific, warned the United States has no land-based short- or medium-range missiles because it is a signatory to the Intermediate Range Nuclear Forces, or INF, treaty signed in 1987 between Russia and the United States. But Iran and North Korea are under no such constraints.
"We are being taken to the cleaners by countries that are not signatories to the INF," Harris told the House Armed Services Committee late last month.
Perhaps most worrisome for the United States is that Iran attempted this latest missile launch from a midget sub Tuesday in the narrow and crowded Strait of Hormuz, where much of the world's oil passes each day.
Over a year ago, Iran  fired off a number of unguided rockets near the USS Harry Truman aircraft carrier as she passed through the Strait of Hormuz in late December 2015. The U.S. Navy called the incident "highly provocative" at the time and said the American aircraft carrier was only 1,500 yards away from the Iranian rockets.
In July 2016, two days before the anniversary of the nuclear agreement between Iran and world powers, the Islamic Republic attempted to launch a new type of ballistic missile using North Korean technology, according to multiple intelligence officials.
It was the first time Iran attempted to launch a version of North Korea's BM-25 Musudan ballistic missile, which has a maximum range of nearly 2,500 miles, potentially putting U.S. forces in the Middle East and Israel within reach if the problems are fixed.
The extent of North Korea's involvement in the failed launch was never clear, apart from North Korea sharing their technology, according to officials.
In Washington Thursday, Secretary of State Rex Tillerson tried to garner support for more United Nations sanctions against North Korea by hosting leaders from Southeast Asia. Days after Iran's first ballistic missile test of the Trump administration, the White House put Iran "on notice."
Lucas Tomlinson is the Pentagon and State Department producer for Fox News Channel. You can follow him on Twitter: @LucasFoxNews
Jennifer Griffin currently serves as a national security correspondent for FOX News Channel . She joined FNC in October 1999 as a Jerusalem-based correspondent. You can follow her on Twitter at @JenGriffinFNC.
["Source-foxnews"]