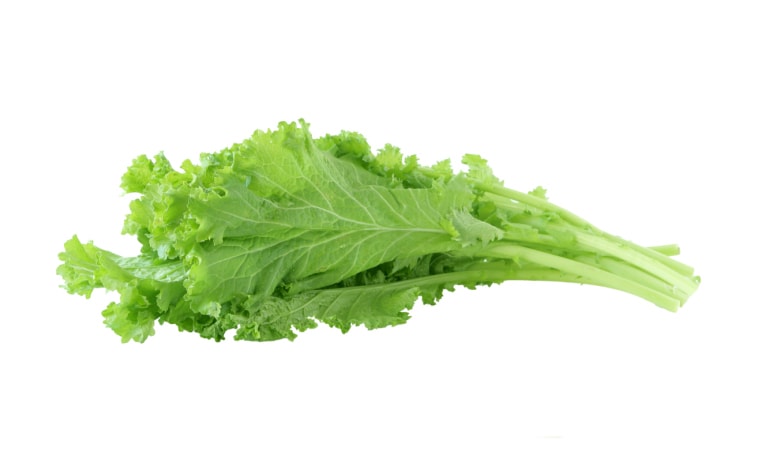 Hindi Name: Sarsong ka Saag
Mustard Leaves or mustard greens appears in Italian, Chinese, Japanese, Korean, African, Pakistani and Indian cuisines. The most famous in the Indian peninsula is sarsoon da saag made using mustard greens. Mustard leaves is a popular winter vegetable. The are broad dark green leaves with a flat surface.
Health Benefits
You can never go wrong with greens. These leafy goodies help control cholesterol levels, is required for good eyesight, counter constipation as well colon cancer disease. They are rich in vitamin A, vitamin K and antioxidants.
Usage
Mustard leaves can be blanched in boiling water, drained and then used, braised or sauteed for a sharper flavor. it is utilized as a salad green, can be prepared both hot and cold and pairs well with rich meats.
Types
Mizuna: Glossy, serrated, dark green leaves with narrow white stalks, has a mild mustard flavor.
Tatsoi: Also called spinach mustard, the plant has dark green spoon shaped leaves. with a soft creamy texture and and a subtle flavor, it is used to make achaar and chinese pickle zha chai.
Pak Choi: Commonly known as chinese cabbage, it has broad green leaves tightly wrapped around a white petioles.
Osaka Purple: Huge oval leaves with splashes of green and purple with white veins, they are shaped like a rosette.
Dragons Tongue: A new variety, it has big wiggly white ribs on its leaves with purple highlights. Salad ingredient when young, it has a spicy richness when bigger.
Did you know?
Mustard leaves are known as Takana in Japanese cuisine.
This 5,000 year old plant is from the Himalayas.
["source-ndtv"]