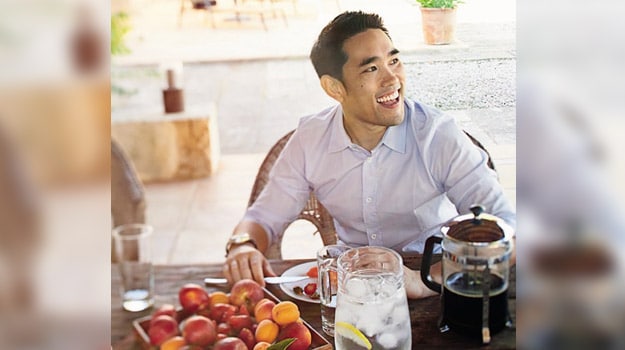 Dalton Wong trains several "Game of Thrones" actors as well as Jennifer Lawrence. MUST CREDIT: Phillip North-Combes.
Like so many of us, Dalton Wong can't wait for the new season of "Game of Thrones" to arrive. However, unlike so many of us, he isn't eager to learn what's in store for the likes of Tyrion Lannister, Daenerys Targaryen and Arya Stark. Rather, Wong will be delighted when people no longer feel compelled to ask him, "So, is Jon Snow dead, or what?"
You see, Wong is the trainer for Kit Harington, whose brooding "Thrones" character may or may not have suffered a bloody death at the end of the previous season (uh, spoiler alert, I guess? If you're just getting around to watching the show, though, fear not – this article won't give much else away). So it's a good thing that the London-based fitness expert is in such good shape himself; otherwise, fending off the same question from fans of the show, over and over again, could get pretty tiring.
I learned this in a recent phone conversation, one that I kicked off, of course, by asking him that very question about Snow. I knew that, even if Wong had an answer, he wouldn't be allowed to give it to me, but, hey, what better way to start an interview than by annoying the interviewee, right?
Requisite query posed and deflected ("You know I can't answer those questions"), I was able to learn some interesting things from Wong, including that he doesn't even watch "Game of Thrones." This despite the fact that his clients also include Gwendoline "Brienne of Tarth" Christie and Tobias "Edmure Tully" Menzies, and a colleague trains Jacob "Grey Worm" Anderson and Joe "Gendry" Dempsie.
Of Dempsie's character, Wong said, "He's, like, out rowing a boat somewhere. That's what we joke about." So he does know a thing or two about the show, but apparently not so much that he was able to discern the hilarity of another question I had for him about Harington: "When he first sought out your advice, was that because, much like his character Jon Snow, he knew nothing?"
I mean, that's pure gold, but Wong just answered, "Yes, exactly right." I got over my disappointment in time to hear the trainer explain that Harington approached him a few years ago, looking for some quick help in bulking up for a starring role in the film "Pompeii." "So basically, he said: 'I've got this new movie. I've been doing "Game of Thrones," I wear a cloak, so no one really knows what's happening underneath this cloak, but in my new movie, I have four to five weeks to look amazing,' " Wong told me.
For that effort, which did indeed produce a suitably buff bod, Wong drew up both a weightlifting plan and a diet plan that involved "some serious eating." He also emphasized movements that would help Harington swing a sword, which carried over nicely as the actor continued to work with Wong through the past few seasons of "Thrones."
"It was not your classic sort of bodybuilding training," Wong said. "It's not isolation. It's integration of exercises. So we're doing a lot of cable rows, we're doing kettlebells. It wasn't something that was very static. It was all movement-based. "A lot of lateral movements, a lot of rotations because that's what happens when you swing a sword. You can't just squat and lunge and poke, you know? It's just a lot more three-dimensional."
Snow, who has been spending his time in the frosty weather around the Wall, is fond of heavy outerwear, so Wong had Harington do some exercises while wearing a 10-kilogram (22 lb) vest. "It just gets him used to holding that weight for long periods of time," the trainer said, "because he wears that outfit for most of the day, so that, in and of itself, is quite exhausting."
(I had a question teed up about how much climbing-wall work Wong had Harington do, but at that point, I'd pretty much learned my lesson. Same goes for a line about using "the Night's GPS Watch." Sigh.)
In addition to swinging swords, Harington and, to an even greater extent, Christie have had to play their parts while on horseback, so Wong has incorporated plenty of "postural work" into their fitness regimens. "Riding a horse while it's galloping, you have to have very good posture, you can't be hunched over," he said. "So you have to have a very good, drawn-in, shoulders-back, chest-up posture."
"It's strengthening the core," Wong added, "but also working the back muscles, the muscles in between the shoulder blades, the muscles all up the back, but not doing it in the form of rowing exercises, right? Because rowing is using the strength muscles. Posture muscles are using the deep, but sometimes the superficial muscles, where you'll be holding postures for long periods of time."
Wong mentioned an exercise that he details in "The Feelgood Plan," a book offering advice on attaining a healthy lifestyle that was published in January. Called the "torpedo," it involves lying on one's belly and raising one's head, chest and arms while pushing one's hips into the floor for 25 seconds, with five-second intervals. Wong says it's "a really good postural exercise to work the muscles between the shoulder blades and back."
"The Feelgood Plan" includes a foreword by Jennifer Lawrence, whom Wong helped get into shape in 2010 for "X-Men: First Class." Back then, Lawrence was "this girl who no one had ever heard of," but she has gone on to be easily his most high-profile client, and she had high praise in the foreword, writing, "Dalton taught me how to eat, move and live a delicious but healthy life."
There aren't a ton of healthy lives on display in the hit HBO show, and as for the cliffhanger regarding the life of one of its most popular characters, well, Wong's lips were sealed far more tightly than anyone's grip on the Iron Throne. He did let slip, though, that he was currently working with Harington, who will, in fact, be appearing in . . . a play in London.
Sorry, I tried.
["source-ndtv"]