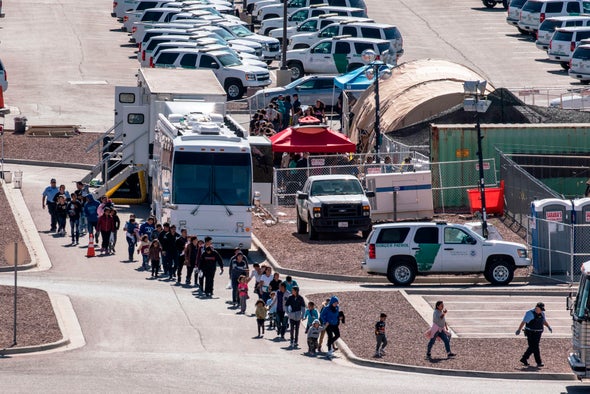 Less than a month after opening a new detention facility in Carrizo Springs, Tex., for migrant children who have crossed the border without a parent or legal guardian, the Department of Health and Human Services now says it has released all of the children to sponsors (usually family members, according to the agency's Web site) or moved them to other facilities in HHS' network. The center, which was operated by a nonprofit contractor for HHS called BCFS Health and Human Services, was shown to be clean and spacious during a press tour earlier this month—in contrast with the overcrowded and unsanitary conditions in which children have been held by Customs and Border Protection. But experts say that as the children are shuttled from facilities such as Carrizo Springs to sponsors, some may not be getting the continuous pediatric medical care they need.
Federal law and court orders require that within 72 hours of taking unaccompanied children into custody, CBP turn them over to HHS's Office of Refugee Resettlement (ORR) or one of its contractors until a sponsor can be located. A BCFS spokesperson says the Carrizo Springs facility held a little more than 200 children as of the week of July 8. And the number held by CBP has dropped dramatically after peaking at more than 11,000 in May. Pediatricians who have treated migrant children and seen the conditions they have endured in U.S. custody, however, say additional measures are needed to ensure no lingering medical problems—which could include communicable diseases such as influenza and stress-related mental health issues—persist from the children's time in detention.
"The rights of the child and their health and health care really need to be thought about as separate from the legal process that's unfolding," says Elizabeth Barnert, a pediatrician at the University of California, Los Angeles, who studies the effects of juvenile incarceration on children's health. She says health care processes should be consistent across the various facilities in which children have been held. "While it's great that the children are being released [to sponsors], you do worry when things have happened hastily," she says.
As children transition from CBP custody to other agencies and eventually into households, Barnert says ensuring continuity of care is key to minimizing adverse health effects. "When they're released into the community, it's likely that they're going to have ongoing medical needs," she says. "Regardless of immigration status, the standard of care is for every child to have a 'medical home.'" (According to the American Academy of Pediatrics, or AAP, Web site, a "medical home" is a personalized approach to primary care that relies on a relationship between the patient, a physician and a coordinated care team.) "And for children leaving immigration detention facilities, this is even more important because of the psychological trauma and the physical health risks that they endured during the journey and even possibly during detention." Barnert says migrants have been treated like criminals rather than people who have been through a traumatic experience and need help. As a result, they have "fear of accessing care, fear of being in further contact with the system," she says. BCFS declined to comment on these claims.
According to the U.S. Centers for Disease Control and Prevention, cases of chicken pox, influenza, scabies and lice have been reported among migrant children at border facilities. Pneumonia has been found among migrant children in shelters, and tuberculosis cases have been identified during ORR medical screenings. At least seven children have died in CBP custody since last year, including Carlos Gregorio Hernández Vásquez, a Guatemalan teenager who died after being diagnosed with influenza.
Another issue is lack of pediatric expertise. "Children will continue to die if we don't make sure that every child who goes through federal custody is evaluated by a medical professional with [such experience]," says Julie Linton, co-chair of the AAP's Immigrant Health Special Interest Group. Because pediatricians have more expertise in distinguishing between mild and serious illness in children, it is imperative to "urgently" increase pediatric expertise at the border, Linton says. In a policy statement, the AAP advocates providing formerly detained children with medical care, legal representation and education. "Such services support children in fulfilling the key tasks of childhood—growing and developing healthy brains and bodies—as well as offering a fair chance for their cases to be heard," Linton says.
BCFS declined to comment on the transfer of children out of the Carrizo Springs facility. In a statement e-mailed to Scientific American, HHS says its policy dictates that every migrant child be given a medical examination based on screening recommendations from the AAP, the CDC and the U.S. Preventive Services Task Force. In another e-mail, HHS says the agency "will retain access to the Carrizo Springs site for temporary influx as HHS considers options regarding its future use." BCFS spokesperson Evy Ramos says the facility did not provide "extensive" medical care beyond basic first aid (for example, it can stitch up a wound but not set a broken arm). Once children are released to sponsors, she says, BCFS is no longer responsible for them.
On July 10 Carlos Gutierrez, whose pediatric practice has been treating migrants released from CBP custody to local shelters in El Paso since 2014, testified before the House Committee on Oversight and Reform's Civil Rights and Civil Liberties subcommittee that doctors providing care to children at CBP facilities are barred from communicating with physicians in the community. Gutierrez says a lack of communication and transparency with either CBP or HHS contractors is the single greatest barrier to ensuring continuity of care for the children today. When children released from custody make it to his clinic, "we don't even know what medical condition we're receiving them in," Gutierrez says. He adds that pediatricians must be granted access to facilities where children are being held, if only to meet with the people providing medical care. "There's no excuse [for] not allowing us in there," he says.
Sara "Sally" Goza, the AAP's president-elect, visited migrant children at a CBP holding facility in Donna, Tex., and the Catholic Charities of the Rio Grande Valley's Humanitarian Respite Center in McAllen, Tex., last month. She says she thinks there is a gap between care children receive from CBP and care they are given when they get to HHS and ORR custody. "I think there are missed opportunities to make the communication better," Goza says. "We need pediatric-trained professionals in these Customs and Border facilities that could then transfer [medical] information to Health and Human Services and ORR facilities—or even to wherever family units are going, if they're going into ICE [Immigration and Customs Enforcement] or if they're being released."
Barnert says health professionals in communities where migrant children are released also need to be attentive to opportunities to connect them with care. "It's very tricky, because we don't always want to ask for immigration status, especially when we're having a first encounter with a family," she says. "This is why having a medical home and continuity of care is so important."
"We need immediate, permanent changes" in the way immigrant children are treated, Linton says. "At the moment they arrive at our border, we should begin the healing process rather than retraumatizing children that have fled conditions they're trying to escape and seek safety in this country."