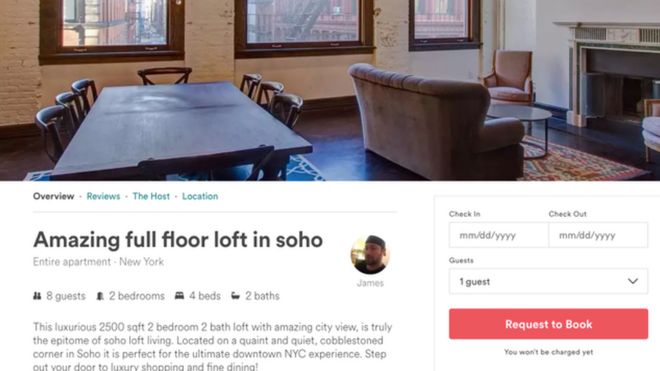 The 31-page indictment against Paul Manafort contained one surprising detail – that he listed one of his New York City properties for rent on the website Airbnb. The BBC spoke to a family who unwittingly rented the former Trump campaign manager's flat for a long weekend.
Like any cautious Airbnb user, Suzanne was initially suspicious when she read the ad for an "amazing full floor loft in Soho".
"It took me a really long time to believe what I was seeing," says Suzanne, who asked her full name be withheld to protect her family's privacy. "It was too good to be true."
It was December 2014, her father had just recovered after a long stay in hospital, and she wanted to give her family a break. So she and her husband Jeff began planning a whirlwind tour of the Big Apple with their three children.
Four nights for a family of five in New York City can get very expensive, so Suzanne started combing through ads on Airbnb. Despite her fears the Soho listing might be a scam, Suzanne decided to take the risk.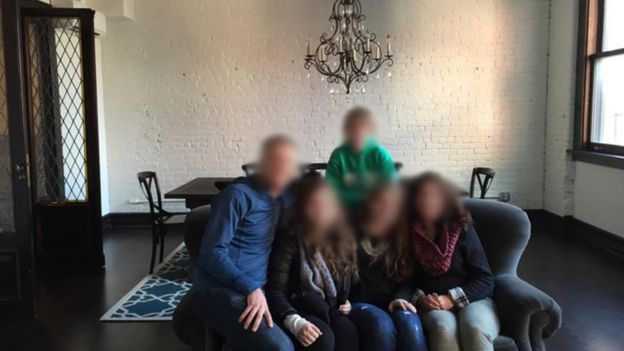 When they arrived at 29 Howard Street in Manhattan, Suzanne says they met their Airbnb host James – or "Jimmy" as he introduced himself – who showed them how to take the keyed elevator up to the fourth floor, where the doors opened right into the flat. What they saw blew them away.
The sprawling two-bedroom, two-bathroom loft was replete with a working fireplace, a professional-grade kitchen and stunning fourth-floor views of one of Manhattan's trendiest neighbourhoods. A portrait of Kurt Cobain hung on one wall; everything seemed to be brand new.
"I think we called it 'the rock star apartment'," Suzanne recalls. "It was exactly as pictured. It was wonderful, perfect."
Even meeting Jimmy was a bit like a rock star experience – he told Suzanne and Jeff he was an actor with a starring role in the 1999 comedy Detroit Rock City under his belt. Suzanne says he explained that he split his time between New York and Los Angeles, and made his living in property.
Russia-Trump: Who's who in the drama to end all dramas?
The biggest news wasn't about Manafort
Manafort: Trump's former campaign chair
Looking back now, Suzanne doesn't know why she didn't wonder how someone as young as Jimmy could afford the enormous, luxury flat. It was clear to the couple that no-one lived in apartment 4D – Jeff found the plastic packaging their sheets had come in. There were no clothes in the apartment, save for a couple of designer jackets hanging in a hallway closet.
For the next four days, the family hit the town. They saw a performance of Hedwig and the Angry Inch, wandered the Museum of Modern Art, and dined at Soho's trendiest restaurants. After the family checked out and flew home to Chicago, Suzanne penned a rave review on Airbnb.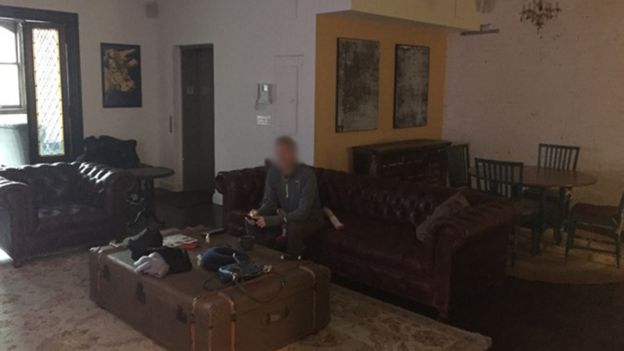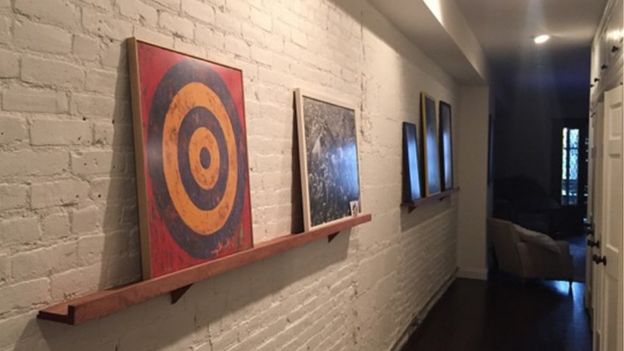 "The apartment made New York feel like ours," she wrote. "Can't wait to come back and stay here again."
Suzanne says she did try to reach out to Jimmy to find out about returning, but doesn't remember hearing back. Eventually, the listing disappeared.
Three years and a phone call from the BBC later, Suzanne and Jeff now know that their dream vacation apartment may in fact have belonged to Paul Manafort, Donald Trump's former campaign manager.
On Monday, Mr Manafort turned himself in to the FBI after being charged with 12 counts, including money laundering and conspiring against the US government. He denies all the charges.
According to the indictment, he paid $2.85m (£2.14m) for the fourth floor apartment at 29 Howard Street, allegedly using a shell company to make the purchase in 2012.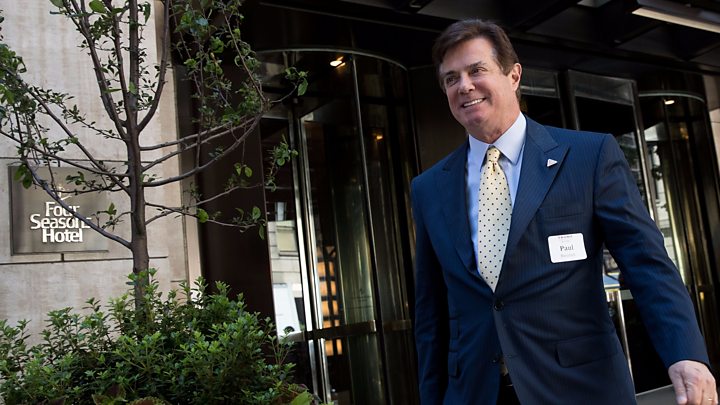 "All the money used to purchase the condominium came from MANAFORT entities in Cyprus," says the indictment. "MANAFORT used the property from at least January 2015 through 2016 as an income-generating rental property, charging thousands of dollars a week on Airbnb, among other places."
The indictment goes on to allege that Manafort then applied for and received a $3.18m mortgage on the condominium, after telling his daughter and son-in-law to tell a bank appraiser that 29 Howard Street was their second home.
Although the listing for the "amazing full floor loft in Soho" has disappeared, "James" – full name James DeBello – still has an active profile on Airbnb.
In a phone call, Mr DeBello confirmed that he once had a starring role in Detroit Rock City (according to his lengthy IMDB profile, he also had parts in American Pie and Cabin Fever) and that in the past, he has given Airbnb guests keys to 29 Howard Street.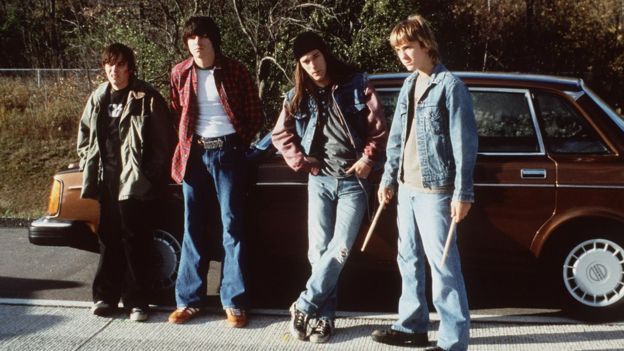 However, he claims that a friend named Kevin set up Airbnb rentals using DeBello's account and he only let people into 29 Howard Street as a favour to Kevin.
DeBello says he has never met Manafort and no longer has contact information for Kevin, having not talked to him in three years.
"I think it's funny," he says of his bit part in the unfolding Manafort scandal.
Multiple real estate companies have published listings over the years of the fourth floor of 29 Howard Street, and multiple US outlets have reported that this is indeed Manafort's apartment. Both the layout and decor of the flat in the real estate photos match Suzanne and Jeff's holiday pictures.
"It absolutely is the same apartment," says Jeff.
Manafort pleaded not guilty in a federal courthouse on Monday, and was placed on house arrest, though it's unlikely he'll be doing so on Howard Street. A spokesman for Manafort says that he "looks forward to having these allegations tried before a judge and jury".
As for Suzanne and Jeff, they still thought about their magical Soho apartment even before they knew it was a tiny part of a major American political scandal.
"When I'm in Soho, I stand there longingly," says Suzanne. "This is good cocktail party fodder for sure."
Airbnb has not responded to BBC's request for comment.
Source:-BBC