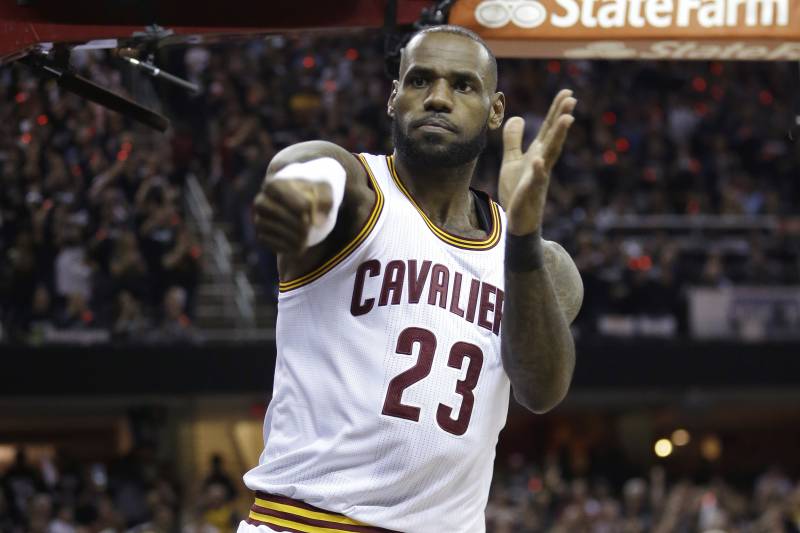 The Cleveland Cavaliers are the defending champions and weren't ready to give away their crown just yet with a 137-116 victory over the Golden State Warriors in Friday's Game 4 of the NBA Finals.
LeBron James led the way with a triple-double of 31 points, 11 assists and 10 rebounds, and said his Cavaliers have championship in their DNA:
Spearheaded by that championship pride, Cleveland didn't back down from the mighty Warriors despite a 3-0 hole.
James exchanged words with Kevin Durant and drew a technical foul, Cleveland's offense dictated the pace from the early going with an astounding 49 points in the first quarter and 86 by halftime, and the team as a whole drilled 24 three-pointers.
Kyrie Irving was also brilliant with 40 points as he sliced through the Warriors defense and connected on seven triples.
Despite Friday's win, the championship DNA will need to be on full display for the Cavaliers to have a chance to shock the world and overcome a 3-1 deficit.
The series shifts back to Oracle Arena for Monday's Game 5, and Golden State is yet to lose at home this postseason. It is easy to point to last year's Finals and say Cleveland won Games 5 and 7 on the Warriors' court while overcoming the 3-1 hole, but Durant's presence, a fully healthy Stephen Curry and a non-suspended Draymond Green make this year a more daunting challenge for the champs.
James will need to be unstoppable the rest of the way, and his teammates will have to dip into that championship DNA to have a chance at battling back.