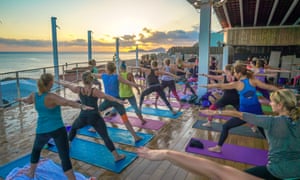 Iam struggling to do a burpee (a sort of supercharged squat thrust). I don't usually find it this difficult – but then I don't usually do it while balancing on a surfboard in a swimming pool. This is what you do in Floatfit, one of a whopping 93 classes on the programme of YogaFit, a retreat in Ibiza. It is a far cry from the average yoga holiday, which might offer a couple of classes a day. Here, my record was seven different classes in one day. It is also more affordable than most: guests can stay for just three night, or up to seven.
YogaFit is the brainchild of London-based Lyndsay Jay, a fitness instructor (and model), who, twice a year, takes over the Cala Blanca beach resort on Es Figueral beach on Ibiza's quiet north-eastern coast. The usual holidaymakers are replaced by 30 hyperactive instructors and hundreds of sporty guests, who can mix and match yoga and fitness classes.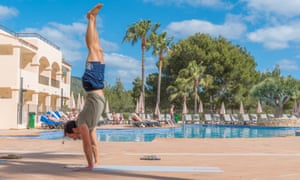 On my visit last October (retreats also run in April), there were 22 kinds of yoga, from beginners' hatha to advanced rocket. The day starts at dawn with sunrise yoga on a deck overlooking the sea, and ends at 10.30pm after soothing bedtime meditation. In between, guests can take as many classes as they like. I found myself shaking my booty to Indian pop at a Bhangracise class with a brilliantly camp instructor, and attempting (and failing) to keep up with choreographed Ibiza club classics.
There is plenty of hardcore fitness. Tabata, a very short high-intensity interval training (HIIT) workout, proved that four minutes is more than enough time to wear yourself out – especially the pool version. Beach circuits was another sweat fest, but with the bonus of a cooling dip in the sea. Perhaps the most surreal was Blockfit, billed as four workouts in one class, and led by none other than Chico, the former X Factor contestant ("What time is it?" "It's Chico time!"). There was also a running club, and on the next retreat there will be kayak and cycling tours. Almost everything is included in the price. I could have paid extra for SUP yoga in the sea, but it was too windy to attempt it.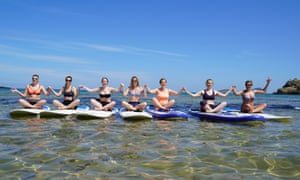 At the hippier end of the scale, we practised "healing breath yoga": sitting in a circle, holding hands and hyperventilating. Some people began to sob; it was a bit cult-like for my liking. Better was a yin yoga sound bath, a slow, candlelit class to the soothing sounds of singing bowls. Talks ranged from healthy eating to life-coaching. I went to a short nutrition session, which boiled down to: sugar is evil. Alex, the nutritionist, led us around the buffet, pointing out the foods to eat and avoid. (Advice I ignored: I wasn't going to turn down rice and seafood in Spain!)
Lyndsay runs the show with her husband, her brother and his wife, and has thought of pretty much everything. I arrived with an injured knee, and a physiotherapist gave me a sports massage that bordered on the miraculous. There was even a skin cancer doctor running a mole clinic with a state-of-the-art scanner.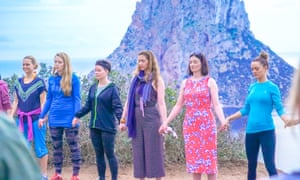 The resort is huge, with parts a little dated and some rooms quite basic, but it is gradually being renovated. Food, drink and even childcare (ages three and above) are included – the restaurant offers a few healthy dishes alongside the regular buffet. I had a break from booze, but there is no pressure – some people were drinking cava for breakfast.
Though there were about 250 of us on the retreat (there's capacity for 400) the instructors gave everyone a bit of individual attention. The mainly British participants ranged from fitness fanatics to mothers and daughters enjoying the sun, plus a handful of men; the oldest was 84, the youngest 16. I felt perfectly comfortable attending on my own, although I'd love to go back with my sisters to have more fun and a bit less exercise.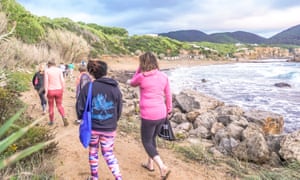 I was expecting the resort to be closed to non-retreaters, but there were a few normal holidaymakers on site. Pity (or envy) the men trying to play darts next to the twerking class, as pop songs blared out and 50 people thrust their hips in unison…
Guests can see a bit of the island, too: we walked to Pou des Lleo, an inlet with rust-coloured cliffs, unusual rock formations and spiky succulents. We also went to view Es Vedra, an island said to be the third-most magnetic place on the planet, with amazing healing properties. Luckily, you don't have to believe in that to appreciate the beauty of the spot at sunset.
I left after five days, a little sad to miss dancing in the moonlight at the farewell pool party. But I felt fantastic after all that exercise, good food and deep, exhaustion-induced sleep. It didn't last, of course – but all the more reason to go back and perfect those balancing burpees.
[Source"CNBC"]